♥ Good Morning ♥
What's the weather like?
1.- Open your notebook.
2.- Write down the date.
Wednesday , 22th April 2020♥ 
RECUERDO: ES MUY IMPORTANTE QUE LEAS LAS INSTRUCCIONES PARA HACER TODO MEJOR.
3.-Open your  (pdf) activity book page 39. (Si te parece más cómodo aquí te dejo las imágenes del activiy book).
Activity 3. Para copiar el cuadro, hazlo sencillo escribe solo el nombre de los personajes  en el lateral y en la parte superior un pequeño dibujo que te recuerde el deporte o el nombre del deporte.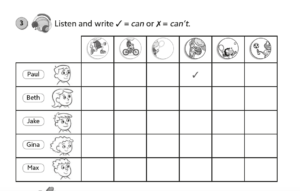 propiedad de Pearson (pincha en la imagen y se hará más visible)
Propiedad de Pearson.
Activity 4. Acorde con el ejercicio anterior, completa estas frases. Parece mucho pero es muy poquito. No copies los dibujos de los personajes, solo el nombre.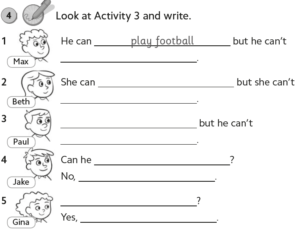 HAVE A NICE DAY! 🙂
Postcrip 1 (posdata)- I will post the answers, on the 23/04.
Attenzione! Si te has perdido durante todo este tiempo, no pasa nada. Empezamos tema nuevo, engánchate ahora 🙂

Postcript 2(Posdata)
A partir de mañana haré una entrada (post) en la web para tres sesiones, es decir, mañana día 23 os hago entrada para:  viernes 24, para el lunes 27 y el miércoles 29. Lo veréis bien organizado.